Toge Goreng (Fried Sprouts) of Bogor City, West Java Province
---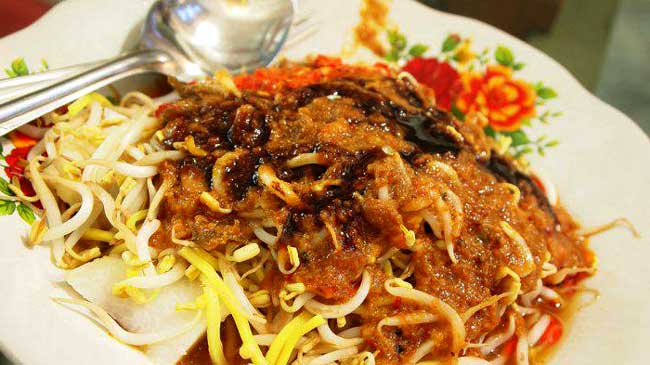 One of the allures of tourism is none other than tasty traditional cuisine of the region. In this case, those who visit Bogor City should never miss the chance to taste Toge Goreng or fried sprouts. The person who introduced this dish was Mr. Gebro. No wonder, his food court becomes the most crowded when it comes to such menu. Tourists can find his eatery located in Pasar Anyar area, actually. Eating sprouts with traditional local spices indeed become a new experience for those living outside Bogor. Not only it is quite tasty, but the dish is also quite affordable.
The Appearance
Even though there is "fried" in its name, Toge Goreng only involves a boiling process. It is true the main ingredients are sprouts, but there are also egg noodles, rice cake, and fried tofu. Not to mention it features sweet and salty sauce with some crackers. For some people, a portion of this dish perhaps is not sufficient. Thus, they often buy an extra plate to satisfy their hunger. As for the place to eat, they can choose either a local street food vendor or the most famous site which is Mr. Gebro's Eatery!
Enjoying Toge Goreng
Tourists can consider Toge Goreng as either a main or side dish due to its moderate portion. As mentioned earlier, some people even eat two portions of this food as they are not quite satisfied with the first plate. Have no worries. The price is quite affordable, so it won't affects their tour budget at all. After all, they won't find this dish in other regions. Even the taste is unique, which may allure more tourists to try it.
Eating delicious Toge Goreng is one thing. But it would be more satisfying if tourists also try Bogor's traditional beverage especially Bir Kotjok. In terms of name, it means the shaken beer! Despite the name, it contains no alcohol. The main ingredients are sugar, cinnamon, ginger, and brown sugar. Here is the best thing. Tourists do not need to spend much money to enjoy it. As for the tip, it tastes better with ice cubes!
Those who never try either Toge Goreng or Bir Kotjok should visit Bogor City sometimes. Even though they are not familiar with the places where they can find these foods, they can take advantage of local guide's help to choose the right eatery. It is true they need to spend some money to pay the guide, but it is worth the expense.
Nearby Attractions

Dengdeng Waterfall
Salak Mountain
Batu Tumpang
Ciampea Peak
How to Get There
The distance between Jakarta and Bogor City is 59.9 km, so the trip may take about 1 hour and 39 hours to get there. Have no worries. It would be faster if they take Jagorawi Freeway! What they need to do is to go to Bogor directly by any available transportation service. Next, they can choose the place to eat right away. The most recommended one is indeed Mr. Gebro's place at Pasar Anyar.
Where to Stay

Monalisa Hotel
Duta Berlian Hotel
Bersama Hotel
Bogor Icon Hotel
ZEN Hotel