Elang Loji Sanctuary in Cigombong Sub-District, Bogor City
---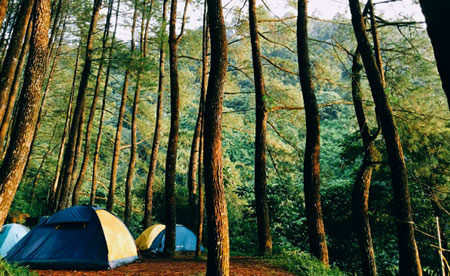 It is, without a doubt, Indonesia is known as a rich country and becomes the home of various flora and fauna. For nature lovers, they must choose Bogor City for their next vacation destination in Indonesia, therefore. It is because they have an opportunity to visit a famous conservation called Elang Loji Sanctuary (Indonesian: Suaka Elang Loji) located in Ciburayut Village. It belongs to Cigombong Sub-District, actually. The fact is that it is the part of the National Park of Halimun Salak Mountain. Not only the site is useful to take care of various eagles, it also becomes an educative tourist site for tourists. Even visitors are able to interact with those birds comfortably.
The Nuance
Once reaching the parking area, tourists can enter the site and conduct trekking for a while. The landscape is a little bit steep, so make sure to wear comfortable footwear during exploration. It would be an interesting activity for those who love outdoor activities, though. After getting to the guard post, tourists may see a suspension bridge located next to that post. It becomes a perfect spot to take pictures, indeed. Next, to the bridge, 5 bird cages are seen where the eagles are kept!
Exploring Elang Loji Sanctuary
Elang Loji Sanctuary is considered a new tourist attraction, but it has attracted lots of visitors as the time goes by. According to Indonesian locals, this tourist site has been there since 2008 and it is managed by both local government and some agencies. The purpose is to protect valuable and rare eagles from poaching and illegal hunting, actually. But, these days, tourists take advantage of the site to enjoy a family recreation during weekends. It is because they can watch those exotic birds directly and take pictures of them too!
Aside from watching the eagles, tourists have other reasons to visit Elang Loji Sanctuary. For example, it is the natural exploration in Indonesia. It is because visitors need to pass a challenging route in order to reach the site. Not to mention they can feel a comfortable nuance of the shady forest once getting near to the location. So, what can they find on site? The most attractive species is none other than the rarest, which is Elang Jawa or the Javanese Eagle!
The first eagle cage is located near to the keeper's office. At this cage, tourists may find common eagles found by the locals in the wild. Next, tourists need to pass the bridge and head to other cages surrounded by pine trees. The last cage is located near to this location, where ready-to-be-released eagles reside. The keepers make these birds hungry intentionally, in order to awaken their predatory instinct. It is a little bit disappointing that tourists are not allowed to get near to this cage, though.

Nearby Attractions
Salak Mountain
Embrio Hill
Cibadak Waterfall
Alesano Hill
Malimping Lake
How to Get There
From Jakarta City, in Indonesia, tourists' main destination is none other than Bogor City. Next, they can head to Cigombong Sub-District and take another local transportation service to get to Ciburanyut Village. The last thing to do is to conduct a short trekking to those eagle bird cages. This whole trip takes approximately 1 hour and 31 minutes, as the distance is 72.4 km. For a faster trip, it is recommended to take Jagorawi Freeway.
Where to Stay
Layyina Villa
Kampoeng Bamboe
Bali Holiday Hotel
Salak Sunrise Homestay