Bidadari Waterfall in Babakan Madang Sub-District, Bogor City
---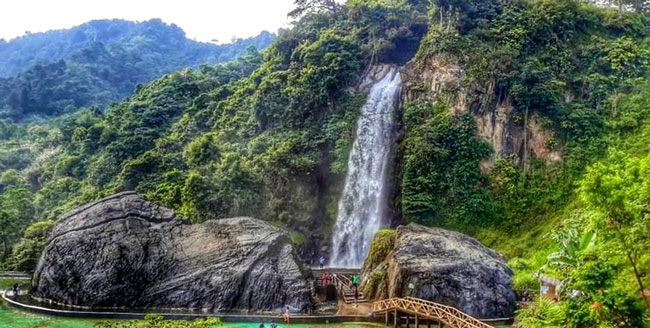 In terms of beauty and popularity, perhaps Bidadari Waterfall is more superior than other waterfalls located in Bogor City. The locals also call it Handap or Bojong Koneng Waterfall, actually. The location is in Bojong Koneng Village and it resides in Babakan Madang Sub-District. "Bidadari" means an angel or beautiful seraph. The locals gave the name due to a legend of beautiful angels who are living there. Some villagers even said that they have seen those angles taking a bath on the site! No wonder, such story makes the waterfall more popular among tourists these days.
The Nuance
As mentioned before, the beauty of Bidadari Waterfall is undisputed. It has the height of 50 meters, featuring a strong water discharge as well. The most impressive fact is that the waterfall is located between Geulis and Batu Mountain! To be exact, it resides at the foot of Salada Mountain and surrounded by lush environment and big trees. Plus, it is located near to Hambalang Hill and located on about 800 meters above the sea level. The management even has built a wooden bridge and several facilities for tourists to use.
Exploring Bidadari Waterfall
Due to the popularity, Bidadari Waterfall has more visitors than others. This explains why the nuance is quite merry there, especially during weekends and holidays. These people come to the site for numerous reasons like enjoying the panorama. The views of mountains and local farms indeed look soothing, especially for those who love nature. Not to mention visitors can feel the country atmosphere and watch a serene river located near to the waterfall. All these features definitely help tourists to find peace and eradicate stresses at once.
The next allure of Bidadari Waterfall is the presence of wild monkeys living in the area. One thing, they are a little bit naughty and often snatch tourists' belongings. In this case, everyone should take care of their items during the visit. It is also recommended to carry some snacks and feed these monkeys. What is next? Aside from those cute animals, tourists can reach another waterfall located above Bidadari called Luhur. It takes some efforts, but it is quite rewarding!
Another good thing is that tourists can take advantage of various facilities provided by the management including the waterpark and several ponds for swimming. Even the management provides an area with beach sand! They get the sand from Bangka Regency's beach actually. Other facilities include a traditional hall, bamboo gazebos, buoys, and many others! Do not forget the fact that the site also features a restaurant!
Nearby Attractions
Sentul Paradise Park
Cibingbin Waterfall
Richie Farm
Pelangi Lake
How to Get There
From Jakarta City, tourists need to spend about 1 hour and 14 minutes to get to Bidadari Waterfall. Their first destination is Bogor City. Next, they should head to Babakan Madang Sub-District and reach Bojong Koneng Village where the waterfall resides. The distance is 59.4 km, so the trip may take about 1 hour and 14 minutes.
Where to Stay
Edensor Villa
Pakuan Hotel
Rainbow Hill Hotel
HIS Aston Hotel