The Highland Park Resort in Tamansari Sub-District, Bogor City
---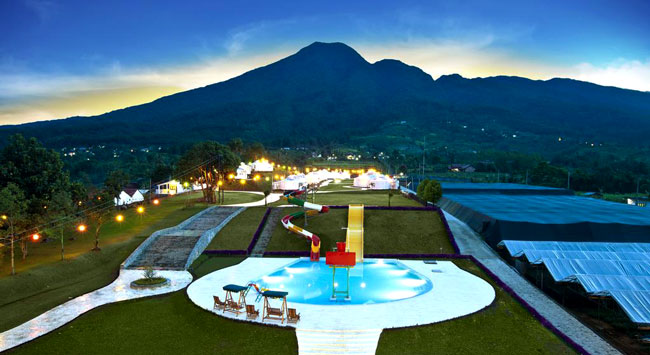 For all tourists, it is important to choose the right place to spend the night when enjoying a long holiday in a certain region. For those visiting Bogor City in Indonesia, for the example, they should consider staying at the Highland Park Resort of Tamansari Sub-District. To be exact, it is located in Sinarwangi Village. The resort becomes famous as it resides in a strategic area where many trekkers pass by. Not to mention visitors often visit the site to watch stunning panorama of nature, especially at night. This explains why the resort never runs out of guests regardless of the time.
The Nuance
In terms of nuance, the Highland Park Resort combines eastern and western culture concept. No wonder, the guests may feel a distinct atmosphere when staying there. For example, they can experience staying at Mongolian and Apache's tent, applying a luxurious camping ambiance. Not to mention the guests can eradicate stresses easily due to the fresh air and serene nuance of the resort. At least, they are able to avoid noisy and busy daily routines of big cities. When it comes to facilities, the resort provides a mini zoo, golf court, horse riding service, ballroom, and many others! Even visitors can enjoy numerous outdoor activities on the available outbound facility.
Exploring the Highland Park Resort
The first allure of the Highland Park Resort is the variety of rooms that tourists can rent. For instance, there is the Mongolian Type. As the name suggests, this one represents a Mongolian tent featuring excellent interior facilities and luxurious concept. Next, there is Apache room that represents a tent of Native Indian Tribe. This one is located near to Nangka Waterfall and horsing site, in fact! The next type is called the tree house, which offers wooden and natural interior and it is suitable for nature lovers. Another type is the barrack room, offering a distinct and exclusive interior.
In a nutshell, Indonesian choose the Highland Park Resort as compared to others because they want to get the best comfort. The purpose is to enjoy a vacation in a more peaceful manner while experiencing a different sensation of resting. Thanks to those unique types of rooms. The next reason is that the resort is located near to numerous fun facilities where tourists can enjoy relaxation, adventure, exploration, visiting historical sites, and many others.
Another impressive fact is that the Highland Park Resort provides sports facilities to visitors especially the golf court. Even an outbound facility resides there for tourists to enjoy high rope, flying fox, team building, etc. Do not forget that visitors can ride a horse on the equestrian club and do other fun activities like fishing, karaoke, exploring the mini zoo, and foot reflexology!
Nearby Attractions
Malang Mountain Hot Spring
Nangka Waterfall
Horta Village
How to Get There
A distance between Jakarta City and the Highland Park Resort is 65.8 km. That means tourists need to spend about 1 hour and 23 minutes to get to the location. First, they need to head to Bogor City. Next, they can simply get to Tamansari Sub-District and reach Sinarwangi Village afterward (where the resort is located). Have no worries. The whole trip becomes faster if they take Jagorawi Freeway.
Other Places to Stay
Arch Hotel
Sahira Butik Hotel
Favehotel Bogor
Aston Hotel
Braja Mustika Hotel