Alesano Hill in Cijeruk Sub-District, Bogor City
---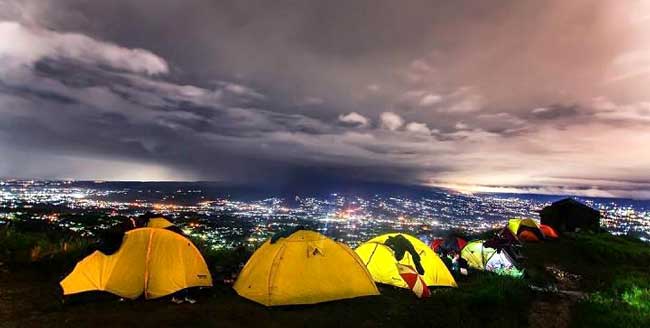 Nature lovers and adventurers would look for new places to explore in their spare time, for sure. Well, during the visit in Bogor City, they must consider coming to Cijeruk Sub-District therefore. It is the home of a beautiful hill called Alesano! The hill is located near to BET building and has become a significant vacation destination for camping, hiking, sightseeing, photography, dating, etc. According to Indonesian locals, most tourists come to the hill at night in order to enjoy a more comfortable nuance and beautiful sparkling lights of the nearby city. Despite the fact, people also come to the hill on other times like in the morning and afternoon.
The Nuance
In terms of nuance, Alesano Hill looks peaceful as no villagers living up there. Still, tourists can find a village at the foot of this hill. In fact, some locals take care of the hill and try to improve its quality of facilities! As for the fee, there is no official cost so visitors can either give money or not to the keepers. During weekends and holidays, visitors may see some tents on site. These campers are either local people or outsiders, for the information. Even some motorcycles are seen there, as the route is accessible both by foot or motorbikes. Another noticeable feature of the hill is the presence of small hut located on the tip of it.
Exploring Alesano Hill
Once arriving at the gate of the hill, tourists need to pay the entrance fee including the parking ticket. From this point, they can choose either hiking or ride a motorcycle to reach the top of the hill. Regardless of the choice, they should be careful when heading to the destination. It is because the route is a little bit slippery and uneven. Moreover, it becomes worse during rain. Thus, it is better to come only during good weather.
Aside from trekking challenge, tourists often take advantage of Alesano Hill for its panorama. At least, the stunning natural view of the hill is able to reduce tiredness during trekking. In this case, it is recommended to carry a camera when visiting the site. This way, tourists can collect beautiful natural pictures while trekking and make a documentation of their adventure.
Another common reason to visit Alesano Hill is none other than camping. This explains why the top of the hill is quite crowded with tents and campers, especially during weekends. During holidays, therefore, it is better to come earlier in order to get the best spot to build the tent. Here is another thing to know. Everyone should take care of the environment and avoid littering!
Nearby Attractions

Eagle Conservation Center
Salak Mountain
Embrio Hill
Rawahi Farm
How to Get There
For those coming from Jakarta City, they can take any local transportation service and head to Bogor City right away. The next destination is Cijeruk Sub-District and they can do trekking right away to Alesano Hill. This whole trip has the distance of 70.6 km, so the trip may take about 1 hour and 58 minutes. Well, as for the fastest trip, tourists should only take Jagorawi Freeway.
Where to Stay

Caringin Villa
Kampoeng Bamboe
Putra Hotel
Mountview Hotel