Leuwi Cibaliung Waterfall in Babakan Madang Sub-District, Bogor City
---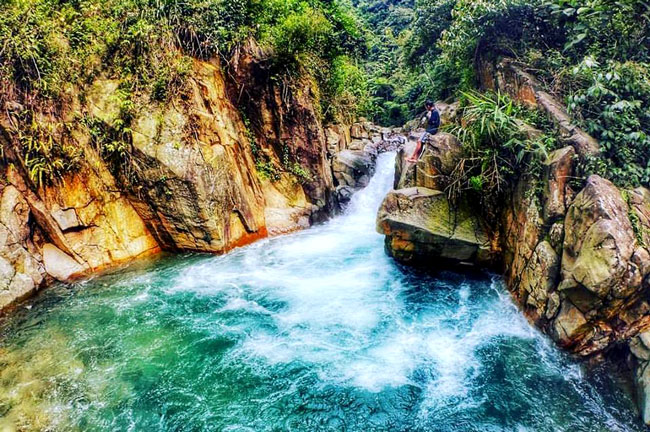 Rather than spending a long holiday at home, it is better to get a new experience by visiting a beautiful waterfall in Bogor City like Leuwi Cibaliung. The location is in Karang Tengah Village and it belongs to Babakan Madang Sub-District. That means it resides in a nearby secluded waterfall called Barong! Well, each waterfall emits a distinct beauty and allure after all. When it comes to this one, tourists would be impressed by its lush forest that surrounds the site. Thus, visitors are able to experience a natural exploration while watching such stunning waterfall during holidays with their families.
The Nuance
As mentioned before, Leuwi Cibaliung Waterfall is surrounded by a shady forest with big trees. No wonder, it has a soothing atmosphere, cool air, and comfy ambiance. The next allure is none other than its appearance, featuring refreshing and clear water. Even though the size is not quite tall, it looks mesmerizing without a doubt. Do not forget about the presence of a natural pond located beneath it, where tourists can enjoy swimming and playing water. Not to mention various stones reside near to it, adding beauty to the site.
Exploring Leuwi Cibaliung Waterfall
So, what can people do in Leuwi Cibaliung Waterfall? It is as simple as sitting on stones and enjoying the panorama. The soothing nuance of the site, somehow, helps tourists to get rid of stresses! Here is the good news. Sometimes, the management provides water buoys to visitors, used for sitting on the natural pond while enjoying the atmosphere of nature. The more good news is that the pond has a similar clarity and beauty to that of Leuwi Lieuk and Leuwi Hejo!
The next recommended activity to do in Leuwi Cibaliung Waterfall is photography. After all, it would be a waste if tourists miss the chance to collect stunning natural photos while visiting the site. Even taking selfies is quite recommended there! For those who look for more challenging experience, though, they can go trekking by exploring the site. In this case, the best spot to reach is definitely Leuwi Hejo Waterfall. It is located quite near to the site, after all.
Being one of the most beautiful waterfalls in Bogor City, Leuwi Cibaliun Waterfall never loses popularity. On the other hands, it gets more visitors regardless of the time. Even though the size of the natural pond is not quite big, everyone would get the chance to get in and swim in it. The water is clear and it feels refreshing as well. Thanks to the natural spring.
Nearby Attractions

Pancar Mountain
Jungle Land Adventure Theme Park
Pancar Pine Forest
3 Rasa Natural Bath
Barong Waterfall
How to Get There
From Jakarta City, a trip to Leuwi Cibaliung Waterfall only takes about 52 minutes as the distance is 53.9 km. It can even be faster if tourists take Jagorawi Freeway. First, they only need to head to Babakan Madang Sub-District. Next, they must visit Karang Tengah Village where the gathering spot resides. The last thing to do is to walk to the waterfall, passing through the forest.
Where to Stay
Tampak Siring Homestay
Neo Hotel
Aston Sentul Resort
Pakuan Hotel