Sakura Park in Cipanas Sub-District, Bogor
---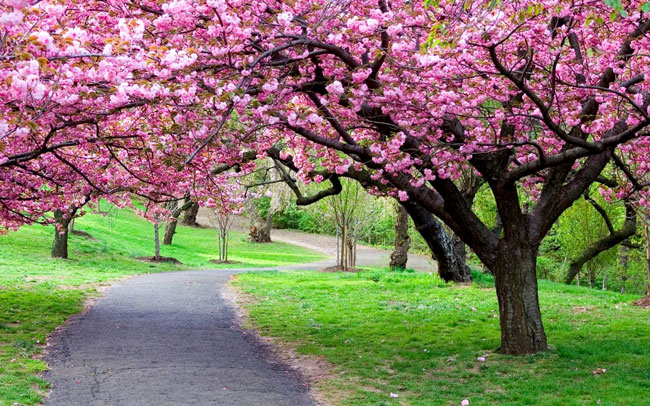 Bogor Botanical Gardens is definitely the most famous tourist site in Bogor City. However, Cibodas should be a nice alternative. The main reason is that it offers numerous types of attractions to visitors, including the beautiful Sakura Park. This serene park is located in Sindangjaya Village and belongs to Cipanas Sub-District, actually. Like people expect, the park features mesmerizing cherry blossoms which are similar to that of the Japan's. There is no need to go to Japan in order to watch such majestic flowers directly, therefore. This explains why the park is suitable to conduct photography and sightseeing.
The Nuance
The Sakura Park is located on about 1425 meters above the sea level, which becomes a good habitat for cherry blossoms. Due to the same reason, the park offers refreshing air and cool nuance to visitors which are suitable for relaxation. In terms of size, the total area is 6000 meters per square and it features a walking path on where tourists can explore the park comfortably. Plus, many big trees grow on the park. What about Sakura flowers? Instead of blooming once a year, they may bloom twice annually in this park! What an amazing fact!
Exploring Sakura Park
Sakura Park, in a nutshell, is a nice place to spend a relaxing time with families during weekends (especially for those who live nearby). Aside from enjoying such comforting nuance of the park, visitors definitely want to see cherry blossoms directly. Even though the park only has 7 types of it, it never fails to amuse visitors. Those types include Yedoensis, Yamasakura, Cerasoides, Prunus Sp, and Lannesiana! Thanks to the keeper. They cultivate these flowers well by applying graft method.
For first-timers, they must not carelessly visit the Sakura Park though. Why is that? If they come at the wrong time, they may get disappointed as they might not find any blooming Sakura at all. In order to avoid disappointment, therefore, it is recommended to talk to a local guide first before visiting the park. It is said the best time to visit the park is between January and February. The next blooming seasons occurs in July – August. Thus, everyone should only come at these times!
When it comes to history, the Sakura Park has been there since 1938! However, it opens for public recently in 2006. The good thing is that the park also features a small lake and lush green trees nearby, which adds the beauty of the site. Even though tourists need to pay the entry fee in order to get to the park, it is indeed a worthy expense, no?
Nearby Attractions
Green Camp Adventure
Mandalawangi Lake
Cibogo Waterfall
How to Get There
It takes about 3 hours and 22 minutes to get to the Sakura Park, especially for those who come from Jakarta City. It is because the distance is 91.8 km, but the trip becomes faster if travelers take Jagorawi Freeway. Their main destination is definitely Cibodas Grand Park where the Sakura Park resides. But first, they must reach Cipanas Sub-District and get to Sindangjaya Village.
Where to Stay
Mon Bel Hotel
Jidah Villa
Tangko Inn Resort
Kalana Resort