Puncak Tourist Site in Cisarua Sub-District, Bogor City
---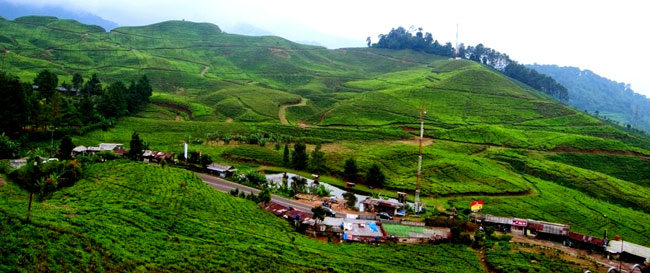 Those who live in West Java Province should be familiar with Puncak Tourist Site. It is, in fact, the most popular place to spend a weekend and long holiday among local families! The location is in South Tugu Village and it is the part of Cisarua Sub-District. People come to this site in order to enjoy a family recreation and get closer to nature, actually. It is because Puncak features mountainous landscape and stunning natural panorama, which may mesmerize everyone. No wonder, citizens choose it as the best place to get rid of stresses as well.
The Nuance
Puncak Tourist Site is located on the slope of Gede Pangrangro Mountain, so it offers an amazing natural panorama and refreshing air. Also, it resides at the height of about 700 – 1800 meters above the sea level! This explains why the atmosphere is quite cool up there, which is suitable for relaxation. Another impressive fact is that the site is surrounded by other majestic landmarks especially the famous Salak Mountain with the height of 2221 meters! What is more? Several local plantations are seen on the site, adding more beauty there.
Exploring Puncak Tourist Site
For those who never visit Puncak may wonder what types of activities they can do there. Have no worries. It can be as simple as visiting beautiful flower parks with families. These parks become perfect locations where tourists can take pictures and enjoy relaxation during weekends, without a doubt. What is more? Do not forget to take advantage of various fun rides provided by local management including ATV, Go-Kart, Labyrinth, and many others. No wonder, most visitors are local families who often come to Puncak with their kids.
The next allure of Puncak Tourist Site is definitely the presence of beautiful mountains including Gede Pangrangro and Mas Mountain! This makes the nuance more impressive and suitable for photography, therefore. Not to mention several tea plantations reside in that area, which looks green and so peaceful. Tourists are even allowed to explore the tea plantation and conduct photography there. If they come at the right time, they can also take pictures together with local farmers!
For those who want to enjoy relaxation, though, they can directly visit nearby resorts and spas. Many options are available so it is better to review them beforehand. The best thing is that these resorts feature an amazing scenery and comfortable atmosphere for tourists to enjoy. Plus, the rent fee is considered affordable for everyone. One thing, it gets pricier during long holidays as the demand increases though.
Nearby Attractions
Safari Park 
Jaksa Waterfall
Tea Museum
Cowboy Town
Gede Pangrangro Mountain
How to Get There
A trip to Puncak Tourist Site may take about 1 hour and 34 minutes, especially for those who come from Jakarta City. Their first destination is none other than Bogor City. Next, they need to visit Cisarua Sub-District and head to South Tugu Village afterward. According to locals, the best route to take is Jagorawi Freeway.
Where to Stay
Bokiko Villa
EFF Villa
Safari Lodge
Aman Adem Villa