Pancar Mountain in Babakan Madang Sub-District, Bogor City
---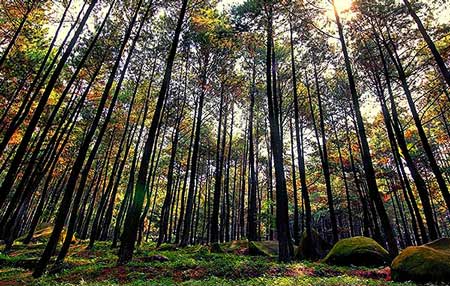 Bogor City has many interesting tourist sites for enjoying outdoor activities and one of them is called Pencar Mountain. It is located in Central Karang Village and belongs to Babakan Madang Sub-District. It is true that most visitors are attracted to visiting the mountain in order to enjoy trekking and natural exploration. Still, there are other reasons including visiting sacred tombs of Mbah Putih and Mbah Lembut. Not to mention tourists want to relax and enjoy bathing in a nearby natural bath. Here is the fact. Some tourists also take advantage of the site to enjoy camping!
The Nuance
In terms of nuance, Pencar Mountain is both peaceful and stunning. The landscape is dominated by pine trees and it features various types of natural attractions including natural bath, hills, bushes, and an open field. When it comes to the size, Pencar Tourist Site has the total area of 447.50 hectares! However, the management (a private organization) uses only 6 hectares of it for a vacation destination. Also, as mentioned before, the site features two sacred tombs for tourists to visit – conducting pilgrimage.
Exploring Pancar Mountain
The first that tourists can do in Pencar Mountain is definitely trekking or natural exploration. The presence of pine forest makes this activity more interesting! Also, the fresh air of the site helps tourists to reduce the tiredness during trekking. Here is the best news. The route is quite easy, so beginners can enjoy the activity comfortably and without the help of a porter. What they need perhaps is a local guide who knows the direction and exact locations of available attractions for them to visit later.
During trekking, it is recommended to visit famous sacred tombs of Mbah Putih and Mbah Lemut! With the help of a local guide, tourists are able to gather further information regarding these tombs and conduct proper pilgrimage on site. After visiting the tombs, the next popular activity to do is definitely camping. It is because the management has provided the camping ground to visitors. The thing is that tourists should pay the fee either for renting the tent or the good spot for camping. It is worth an expense, though. Nothing can compare spending the night surrounded by pine trees, no?
Another interesting allure of Pancar Mountain is the presence of a natural hot spring where tourists can enjoy therapy and bathing. It is even said this natural bath is able to heal several diseases and relieve stresses instantly! Once again, it takes some money to use the facility so visitors should prepare enough money beforehand.
Nearby Attractions

Bidadari Waterfall
Angsana Hill
Pelangi Lake
How to Get There
A trip to Pencar Mountain may take about 1 hour and 13 minutes for those who come from Jakarta City, as the distance is 58.4 km. Have no worries. The trip becomes faster if they take Jagorawi Freeway. Their main destination is Bogor City. Next, they should head to Babakan Madang Sub-District and reach Central Karang Village right away.
Where to Stay

BNR Hotel
Pakuan Hotel
Tampak Siring Inn
Edensor Hill Resort