Agung Garunggang Cave in Babakan Madang Sub-District, Bogor City
---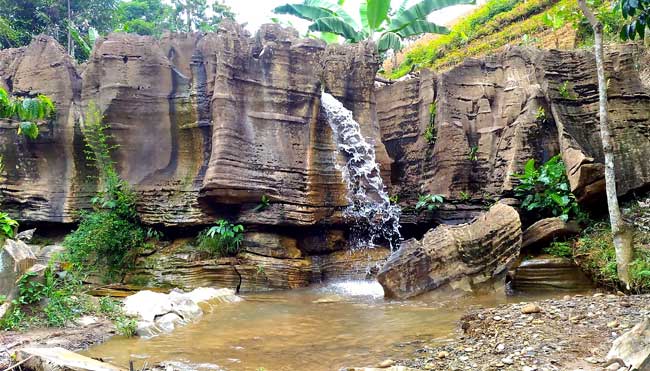 For those who look for a new place to explore, there is Agung Garunggang Cave in Bogor City. To be exact, the cave is located in Karang Tengah Village and belongs to Babakan Madang Sub-District. This unique vacation destination completes the allure of the region along with other attractions including Leuwi Hejo and Bidadari Waterfall. Due to the secluded area, the site becomes tourists' alternative to find peace and get away from busy daily activities without a doubt. Some people also come to the location to enjoy photography and exploration, though.
The Nuance
Due to the challenging route and secluded location, Agung Garunggang Cave becomes a nice destination for trekking and natural attraction. Not only tourists can find the unique cave, but they also may see a small natural shower on site. In terms of landscape, it is similar to that of a temple featuring various sizes of stones and small cliffs. Not to mention visitors are able to see the famous natural object called Batu Gantung (which becomes a perfect background for photography). Do not forget the fact that the site features a small serene natural pond on where tourists can enjoy bathing and playing water.
Exploring Agung Garunggang Cave
The first allure that makes the cave popular is the location. It is because tourists won't find it right away once they arrive at the site. It is because the cave is situated in a secluded spot, so visitors should spend a little bit effort in order to see it. The next unique fact is that the cave features a vertical mouth. That means people should use a ladder if they want to enter it. Have no worries. They can borrow it from nearby villagers freely. Here is another important info. There are actually 4 caves, but only 1 of them is accessible. Plus, it requires the help of a local guide to accessing the site.
What is inside? It feels a little bit narrow and dark, which is considered uncomfortable. According to the locals, the cave was used as a waterway and it connects to other caves (heading to Tasik City). Still, it takes no time to explore the cave due to its limited accessibility. People won't fit if they continue the exploration, after all. Also, the local guide may prohibit them to get too further to such narrow gap.
The next attraction that tourists can enjoy on the site is the natural pond. That means visitors can take their time and enjoy bathing during the visit. Not to mention the presence of mini waterfall or natural shower makes the site more interesting to explore. Do not forget that mini labyrinth also resides there!
Nearby Attractions

Barong Waterfall
Hordeng Waterfall
Pencar Mountain
How to Get There
From Jakarta City, it takes approximately 1 hour and 27 minutes to get to Agung Garunggang Cave as the distance is 53.8 km. Tourists' first destination is Bogor City. Next, they can simply head to Babakan Madang Sub-District and visit Karang Tengah Village afterward. For the information, it also involves a short trekking to get to the site.
Where to Stay