Parahyangan Temple in Tamansari Sub-District, Bogor City
---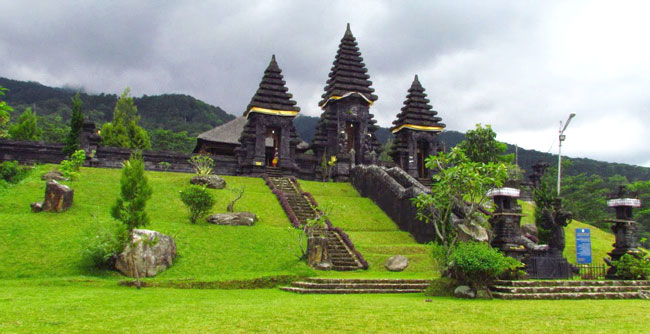 What comes to tourists' mind when they hear a vacation destination like Bogor City? Well, most of them may think about natural attractions like mountains and waterfalls, no? The thing is that Bogor also owns a historical and holy place like Parahyangan Temple which is located in Sukajadi Village. In terms of region, it belongs to Tamansari Sub-District in Indonesia.  Even though it is the part of Puncak Tourist Site, the temple is located in a secluded area so it is suitable for relaxation and eradicating stresses. Somehow, tourists also take advantage of the site to enjoy photography.
The Nuance
To be exact, Parahyangan Shrine is part of Salak Mountain and it has been used as a worship place for Hindu People. Some people even say that it is the biggest shrine in Java Island and the second biggest one in Indonesia after Bali's Besakih. The structure was built on an area of 2.5 hectares and it resides on the slope of the mountain. In terms of nuance, the shrine features a beautiful park and numerous types of plants. Not to mention the panorama looks so breathtaking there!
Exploring Parahyangan Temple
When it comes to history, Parahyangan Shrine was built in 1995. The purpose is to accommodate Hindu People in conducting religious rituals like Siwa Ratri Ceremony. These days, though, the site has become a new vacation for tourists as well. Thanks to the amazing nuance and beautiful scenery. This explains why the majority of visitors come to the shrine to enjoy relaxation and sightseeing. The green landscape and pure refreshing air become a perfect combination, for sure. Somehow, it helps them to get rid of stresses as well.
Like other holy places, Parahyangan Shrine is considered sacred so tourists should obey any available rules when visiting the site. For example, girls or women are not allowed to enter the shrine during their period. The next common rule is that visitors must wear clean and neat clothes when visiting the shrine. That means they are not allowed to wear disrespectful clothes like shorts and flip-flops. Actually, the keepers may provide a Sarong for tourists to wear before entering the shrine as well. Not to mention they give a yellow belt to visitors as the sign that tourists have fulfilled the requirement in entering such sacred site.
Once passing the yard, tourists may find three main entrances of the shrine featuring various beautiful carvings and statues. On the horizon, a view of Salak Mountain can be seen clearly as well. The next part of the shrine is called Jaba Jero, featuring a green grassy landscape and several halls used for relaxation and meditation. Another part is called Utama Mandala, but only Hindu People who conduct worshipping are allowed to enter it!
Nearby Attractions
Nangka Waterfall
Kawung Waterfall
Salaka Village
Jawa Waterfall
How to Get There
In order to reach Parahyangan Shrine, tourists should head to Bogor City right away. If they come from Jakarta City in Jakarta, the trip may take around 1 hour and 22 minutes as the distance is 66.4 km. Once arriving at Bogor, they can directly head to Tamansari Sub-District and visit Sukajadi Village. Also, it involves a short trekking to get to the shrine. The trip even becomes faster if they take Jagorawi Freeway!
Where to Stay
Highlander Resort
Aryaduta Lido Hotel
Nangka Hotel

Latest News
In the Journal of Nature (a scientific journal of high repute), Mounce et al (2017) revealed, widely that Botanical Gardens around the world have collected at least 105,634 species or equivalent to 30% of all known plant diversity worldwide. However, it was also disclosed that there are an estimated 75% of species that have not been conserved in the tropics. Therefore, the Bogor Botanical Gardens which incidentally located in the tropics and are included in the oldest botanical gardens in Southeast Asia, must be able to answer the conservation challenges…
---
The Bogor Botanical Gardens are the only natural destination in the middle of Bogor city with 87 hectares area. The transportation support capacity is very adequate to access this tourist location. Easy toll access and public transportation access are widely available, which are added values ??for the existence of this tourist location. The existence of the Bogor Botanical Gardens itself cannot be separated from the historical value of the existence of the Dutch in the colonial period, where it is known that the Bogor Botanical Gardens was founded by the…
---
Ranca Upas is one of the tourist destinations in Bandung. Here you can camp while looking at the herd of deer and stunning scenery. Ranca Upas is a tourist spot located in Rancabali District, Bandung Regency, West Java. Ranca Upas is also known as campground, which is a favorite place for nature lovers. At Ranca Upas you can camp in the meadow on a hill of about 1700 meters above sea level. The view in the morning really amazes like being abroad. Moreover, the cool air makes the atmosphere more…
---
Last year, the waterfall or in local language called as 'curug', became a very popular tourist destination for tourists. Its presence in remote areas makes tourists more curious and feels challenged to reach it. Local waterfalls are also crowded because at that time Indonesian citizens were hit by boredom due to the Corona virus pandemic which forced them to cancel their vacation plans. West Java is not only famous for its beautiful beaches and mountains. The area, which is divided into 18 districts and nine cities, also has tourism potential…
---