Cariu Deer Breeding in Tanjungsari Sub-District, West Java Province
---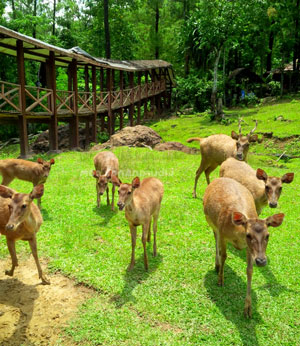 Getting closer to nature is everyone's passion, as it gives a soothing sensation and relaxation. The question is the place where they should spend the vacation. For those who are visiting Bogor City, though, they must choose Cariu Deer Breeding as one of the destinations. It is located in Buanajaya Village and belongs to Tanjungsari Sub-District. Well, as people may expect, this location is managed to breed and retain deer. The best thing is that tourists are allowed to enter the site comfortable and interact with these tame beautiful animals.
The Nuance
The most satisfying fact is that Cariu Deer Breeding doesn't have any border barrier, so tourists can explore it freely. The deer and other animals live there comfortably, surrounded by lush grasses, plants, and trees. On the horizon, visitors can see a beautiful panorama of mountains as well. The site is also located near to a beautiful river, where tourists can play water and swim in it! Another noticeable feature is the presence of watching bridge on which tourists can enjoy sightseeing in a comfortable manner. As for the tip, it is quite recommended to carry a camera there.
Exploring Cariu Deer Breeding
Rather than wasting time at home during holidays, how about visiting Cariu Deer Breeding Site? It gives a new experience and helps everyone to relieve stresses, after all. Once arriving at the site, tourists may see a stunning panorama of mountains and forest right away. What they need to consider is only the challenging route, featuring rocky surface and steep landscape. In this case, everyone should come using the right vehicle and take advantage of a local guide to get to the site efficiently.
Do not forget to prepare some cash to pay the parking fee, though. From the parking area, it takes a small walk to the breeding site. The real challenge starts now, as tourists need to pass through a wooden suspension bridge in order to cross Cibeet River. This bridge becomes the best place to take pictures of nature, actually. One thing, tourists are not recommended to go down to the river and play water in it. It is because the current is considered too strong!
After passing the bridge, they may approach some facilities like toilets and local eateries. Have no worries. It only takes several minutes to get to the site from that location. So, what can people do once they arrive at the breeding site? It can be as simple as taking pictures or approach the animals comfortably. It is even possible to feed them. The deer come in various species in fact, including Bawean, Totol, and Timor Deer!
Nearby Attractions
Cigentis Waterfall
Cicalobak Waterfall
Sarongge Beach
Kiara Batu Waterfall
How to Get There
For those coming from Jakarta City, they may spend about 2 hours in order to get to Cariu Deer Breeding Site, as the distance is 76.3 km. The first thing to do is to get to Tanjungsari Sub-District. Next, they can simply visit Buanajaya Village. The breeding site is located right behind it, after all. For a faster trip, make sure to take Transyogi Street!
Where to Stay
Taman Gunung Batu Hotel
Suroso Hotel