Beret Waterfall in Ciawi Sub-District, Bogor City
---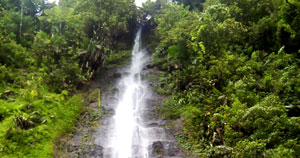 It is true that Bogor City has tons of options of waterfalls for tourists to visit, including the one called Beret Waterfall. The location is in Bojong Murni Village and it belongs to Ciawi Sub-District in Indonesia. The good news is that the site resides near to a famous camping ground called Baru Bolang. Another interesting fact is that it is located at the foot of Pangrangro Mountain and belongs to Gede Pangrango National Park. The only consideration is that the waterfall is located in a secluded area, so not many tourists are aware of it.
The Nuance
In terms of nuance, Beret Waterfall is quite peaceful due to its secluded location. It is not a bad news as tourists are able to eradicate stresses and find peace there. As for the size, the waterfall has the height of about 20-30 meters and it features moderate water discharge. Have no worries. It has a sibling, another waterfall located near to it, called Jambe Waterfall (having the height of 100 meters). The next important feature is the rocky and steep landscape, which is considered challenging for first-timers. Also, as mentioned before, it is located near to a camping ground where people can build a tent and spend the night comfortably (having the distance of 3 km from the site).
Exploring Beret Waterfall
The most common activity to do in Beret Waterfall is to play water and site under the waterfall. Due to moderate and safe water discharge, tourists are allowed to sit on the rocks under the falls and make a pose like a hermit. Do not forget to take pictures while doing so, though. As an alternative, visitors can simply use the waterfall as the background for their photos. Due to this reason, everyone should not forget carrying a camera while visiting Beret later.
Aside from playing water and photography, tourists have other reasons to visit Beret Waterfall. For example, they want to enjoy trekking experience while reaching the site. The first trip may involve a motorcycle and the destination is a parking area located near to a tea plantation and a forest. From this location, tourists may spend about 20 minutes of walking to reach the waterfall. One thing, the route is steep so everyone should be careful when heading to the waterfall.
For first-timers, there are several important things to know before visiting Beret Waterfall. For example, it is related to the weather. Everyone should avoid coming during the rainy season, as the rain makes the route slippery and more dangerous for tourists. Next, it is regarding the supplies. Everyone should consider carrying snacks and bottled water. One thing, they must take care of trash later.
Nearby Attractions
Jaksa Waterfall
Jambe Waterfal
Cowboy Town
Safari Park
How to Get There
From Jakarta City, a trip to Beret Waterfall may take about 1 hour and 49 minutes as the distance is 75.6 km. For a faster trip, tourists should take Jagorawi Freeway indeed. The first destination is none other than Bogor City. Next, they can take the next transportation service and head to Ciawi Sub-District. The last thing to do is get to Bojong Murni Village and conduct a short trekking to the location.
Where to Stay
Rumah Pohon Safari Lodge
Caravan Hotel
Aman Adem Villa
Eff Villa