Panjang Waterfall in Megamendang Sub-District, Bogor City
---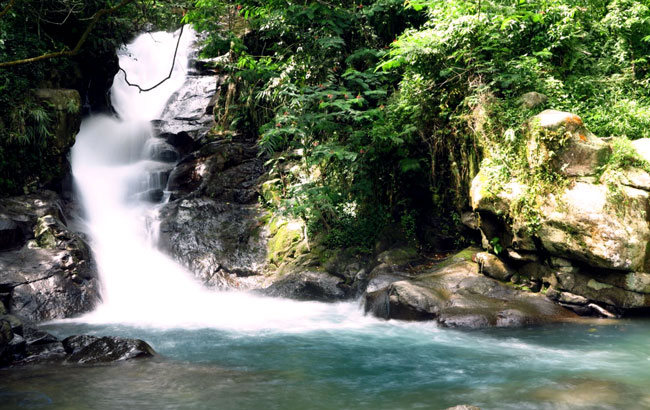 For the next holiday in Indonesia, travelers should consider visiting Bogor City. Not only the region is famous for its grand park, but it also offers other interesting natural attractions like Panjang Waterfall. The location is in Citamiang Village of Megamendung Sub-District and it is the part of Puncak Tourist Site. Featuring fresh air and lush environment, the waterfall suits everyone's need for relaxation or lessening. Somehow, it is suitable for photography as well due to the pristine landscape. Another allure is that it is located near to another famous waterfall called Naga.
The Nuance
Despite the small size, Panjang Waterfall offers an interesting beauty. The height is only 20 meters, but it features a strong water discharge. Another unique characteristic is related to its shape, which appears sloping instead of vertical. According to the locals, the waterfall gets the water from Cirangrang River! This river even creates 4 different falls including Barong, Bunder, Blao, and Panjang itself. This one features cool water and a natural pond with the depth of 7 meters, as well. Since the pond is deep, it is not recommended to take a bath in it.
Exploring Panjang Waterfall
The only difficulty in getting to Panjang Waterfall is the minimum guide of direction provided by the locals. That means tourists won't find much signage there. Not to mention there aren't many villagers live in that area, so it is a little bit troublesome if tourists want to ask for direction. In this case, everyone should consider hiring a tour guide who knows the route well. Somehow, this service may tell tourists regarding the history and interesting story related to the site. Thus, it is indeed a worthy expense.
Before arriving at Panjang Waterfall, tourists may find the pine forest with its majestic nuance. It is quite recommended to rest for a while and take some pictures of those trees. It is because the soothing atmosphere of the forest may help tourists to relax, as well. From this location, the trekking route becomes steeper and narrower though. So, make sure to prepare a good stamina and carry enough supplies beforehand. Have no worries. The waterfall is located near to the forest.
Once arriving at the site, the comfy ambiance and fresh air welcome everyone. It is true the natural pond looks alluring, but it is quite deep! For those who can't swim, it is prohibited to get in or swim in it without a doubt. Also, do not forget to pay the entrance fee as the locals may use the money to take care of the environment. Later, before going home, make sure to drop by at nearby tourist attraction called Naga Waterfall as well.
Nearby Attractions
Naga Waterfall
Cilember Waterfall
Cibulao Waterfall
Cemara Hill
How to Get There
For those coming from Jakarta City, they can take any local transportation service and head to Bogor City right away. Next, their destination is Megamendung Sub-District. Lastly, they must reach Citamiang Village and conduct trekking to the waterfall immediately. Here is the thing. The whole trip takes about 1 hour and 26 minutes, as the distance is 68.3 km.
Where to Stay
Ever Green Hotel
Bumi Ayah Villa
Aries Biru Hotel
Bayak Hotel