Mexico Park in Central Bogor Sub-District, West Java Province
---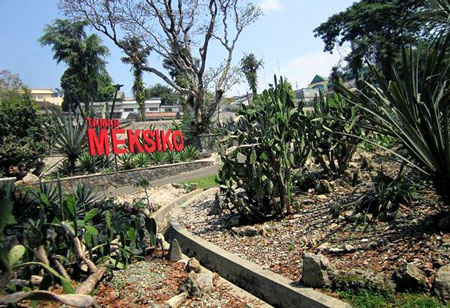 Those who live in Indonesia are indeed familiar with Bogor Botanical Gardens. They even visit it regularly during a long holiday, in fact. What makes it so popular, though? Aside from the nuance, tourists may find various types of attractions there including the Mexico Park (Indonesian: Taman Mexico). It resides in Paledang Village and belongs to Central Bogor Sub-District. Unlike regular parks, this one offers a unique nuance to visitors. As the name suggests, tourists can feel an atmosphere of being in a Mexico desert! They can even rent a Mexican costume and accessories while taking pictures on site.
The Nuance
Once arriving at the site, tourists won't find tall and big trees. Instead, they may see an open field and dry land including many gravels and stones. As mentioned before, the nuance is similar to a Mexican desert! No wonder, various cactuses can be seen there including agaves and yuccas. Not to mention they come in a various shape and size. The next interesting feature is the presence of three Mexican people statues wearing a traditional costume and sombrero. They also carry a traditional music instrument!
Exploring Mexico Park
The most common activity to do in Mexico Park of Bogor Botanical Gardens is none other than photography. That means visitors may explore the park carrying a camera and take some good pictures there. After all, many unique objects are available there especially the various types of cactus. As an alternative, tourists can take selfies in front of Mexican people statues. It would be more interesting if they rent Mexican traditional clothes before taking selfies. It costs some money to rent those clothes, though.
The Mexico Park is also suitable for those who want to experience a new sensation of family recreation. Perhaps many people have been bored with lush and green parks, so they want to visit a distinct like this one. The nuance of dry land and the presence of cactus would impress everyone. It is because visitors can feel an atmosphere of Mexico desert right away. Plus, they can boast and show the photos to social media sites in order to lure more visitors. It would be a distinct experience for everyone, for sure.
Another good thing is that the park is the part of Bogor Botanical Gardens. That means tourists can get to other attractions in no time within that area. The distance between the Grand Park and Mexico Park is only 50 meters, after all. It won't take much time and effort to get to the site, without a doubt.
Nearby Attractions
Kujang Monument
Zoology Museum
Bogor Botanical Gardens
Empang Square
Gong Factory 
How to Get There   
From Jakarta City, tourists can take a local transportation service and head to Bogor City right away. The distance is 53.6 km, so the trip may take about 49 minutes to get there. Once arriving at Central Bogor Sub-District, the last thing to do is to reach Paledang Village where the park resides. For a faster trip, though, make sure to take Jagorawi Freeway.
Where to Stay
Pasar Baroe Hotel
Amaris Hotel
Royal Amaroosa Hotel
Santika Hotel