Kencana Park in Central Bogor Sub-District, West Java
---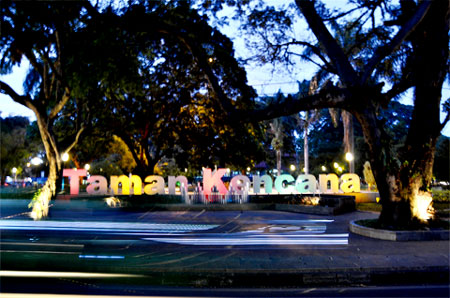 When enjoying a vacation in Bogor City, it is better to spend several days in order to explore the major tourist attractions and try some delicious local foods. During exploration, though, everyone should rest for a while in a nearby park. In this case, Kencana Park becomes a good choice. The location is in Babakan Village and it belongs to Central Bogor Sub-District. Like other Indonesia's parks, this one becomes a nice place to relax and spend a soothing afternoon. Visitors can also conduct photography and buy mouthwatering snacks here. The atmosphere even becomes more interesting in the evening!
The Nuance
In terms of nuance, Kencana Park looks so soothing and peaceful. The air feels refreshing and cool due to the presence of various plants and trees growing in this park. Not to mention the environment is quite clean and neat, making everyone content during the visit. The next impressive feature is regarding the facilities. Tourists can use park benches and other relaxing facilities freely there. The park even features a nice name sign, which often becomes a background for photography. What is more? Visitors may find various cafes and eateries in this park!
Exploring Kencana Park
For visitors in Indonesia, it is better to know a little bit history regarding Kencana Park first. In the past, the name was Van Imhoff Square and the construction began in 1917 along with the city development of Buitenzorg (Bogor). At the time, the park was meant for the high-class society of Europe. No wonder, several buildings apply a mixture of Indonesian-European designs located near to this park. The name of the designer was Karsten and he had the aim to create a comfortable public place for relaxation at the time.
The good thing is that Kencana Park is located near to Sempur Field (which is also a nice place for recreation). Due to such excellent and strategic location, the park has been able to attract more visitors as the time goes by. The majority of visitors enjoy a relaxing time with families there, by simply sitting under shady trees. Perhaps the best benefit in spending a vacation in this park is the absence of pollution and noisy sound of vehicles. Such pristine environment is beneficial for eradicating stresses, without a doubt.
What is more? Like Sempur Field, Kencana Park is suitable for exercising and sports. The fact is that the locals often perform jogging either in the morning or afternoon at this park. The presence of local food vendors makes the nuance merrier as well. Tourists can enjoy delicious snacks and foods there including chicken noodle, grilled chicken, meatballs, etc.
Nearby Attractions
Kang Rudi Fish Pond
Gong Factory
Babah Asun
Bogor Grand Park
Sempur Field
How to Get There
From Jakarta City, a trip to Kencana Park may take about 51 minutes as the distance is 53.1 km. Tourists only need to head to Bogor City and visit Central Bogor Sub-District afterward. The next thing to do is to get to Babakan Village, where the park is located. Here is the tip. Make sure to take Jagorawi Freeway for a faster and more comfortable trip.
Where to Stay
Semeru Hotel
Mirah Hotel
Zest Hotel
Padjajaran Hotel
Sofyan Inn