Quarry Lake in Cigudeng Sub-District, Bogor City
---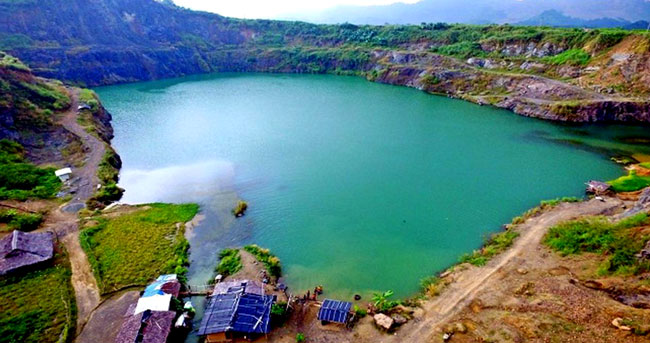 There is another name of impressive natural attraction in Bogor City and the name is Quarry Lake. This Indonesia's lake is located in Tegallega Village and resides in Cigudeng Sub-District. According to the locals, this freshwater lake was formed naturally due to an abandonment of a local stone mining site. The water accumulated gradually and turned into this stunning lake! Moreover, it has a nice popularity among travelers who want to enjoy relaxation, sightseeing, and photography. The panorama is indeed amazing, but visitors should pay attention to the route which is a little bit challenging and uncomfortable.
The Nuance
It is true that Quarry Lake was once a mining site. Despite the fact, the mining activity remains in that area so tourists may find mining trucks passing by there. Plus, the route is steep so everyone should be careful in exploring the site. Have no worries. Such difficulty is rewarding due to the serene nuance and beautiful appearance of the lake. The water has the color of green Tosca and it looks alluring as well. When it comes to the land, it is rocky and dry. The atmosphere is relaxing, though.
Exploring Quarry Lake
One thing that makes Quarry Lake unique is the presence of mining activity near to the site. That means tourists may also see several mining vehicles when exploring the lake, for sure. Jayamix Readymix Ltd chose another location instead of the site where the lake resides now due to the disturbance they made during mining. They didn't want to cause discomfort to nearby villagers at the time. Being abandoned, the site turns into a beautiful lake over time and has become another tourist site owned by Bogor City.
The green tosca color dominates the lake and it looks so majestic. This beauty also elevates due to the presence of stunning cliffs, which become a nice background for photography. Well, it is a little bit disappointing as visitors are not allowed to either swim in the lake or climb the cliffs. According to the locals, the cliffs are prone to slide and the lake is not safe for swimming. That means the most recommended things to do on site are photography and sightseeing.
Thanks to a good management by the locals. Quarry Lake has a neat and clean environment, so feels so comfortable to spend a holiday there. No sophisticated facilities are available, though, so tourists should not expect eateries and toilets there. Here is another consideration. Carrying snacks or foods are allowed, as long as tourists take care of the trash later.
Nearby Attractions
Bogor Botanical Gardens
Kencana Park
Gong Factory
Babah Asun
How to Get There
For those coming from Jakarta City, they can simply head to Bogor City and reach Cigudang Sub-District afterward. Lastly, they need to take another transportation service and head to Tegallega Village where Quarry Lake resides. This whole trip may take around 56 minutes, as the distance is 52.4 km actually. Have no worries. It can be faster if they take Jagorawi Freeway.
Where to Stay
Fape Hotel
Santika Bogor
Whizz Hotel