Mount Gede Pangrango National Park in Cisarua Sub-District, Bogor City
---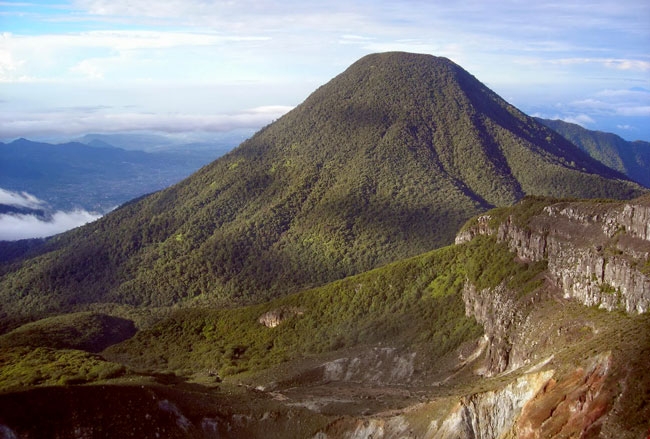 It is good news that Gede Pangrango Mountain has become a national park today. That means it has a better popularity than before and would attract more tourists from different regions as well. This majestic mountain is located in South Tugu Village and it belongs to Cisarua Sub-District, actually. In terms of popularity, it is indeed quite famous among trekkers and nature lovers. Not only tourists come for hiking, but they also enjoy photography, sightseeing, and exploration. As the name suggests, it is a combination of Gede and Pangrango Mountain! These grandiose mountains are located next to each other, after all.
The Nuance
Mount Gede Pangrango National Park, without a doubt, becomes the most recommended trekking site for those who are visiting Bogor City. Not to mention it has become one of the most famous national parks in the nation. In terms of region, though, it belongs to three regencies which are Bogor, Sukabumi, and Cianjur! No wonder, most visitors come from those regions. What about the nuance? Well, the mountain is covered by tons of trees and features lots of trekking routes for tourists to choose from. The presence of Surya Kencana Square with its edelweiss field makes this site more popular among nature lovers, as well.
Exploring Mount Gede Pangrango National Park
Before visiting this national park, it is better to learn several interesting facts regarding the site first. For example, it is related to the first person who conquered the mountain. It is surprising that he was a German person named Reinwardt. This man was able to get to the top of the mountain in 1819! In fact, he was the founder of Bogor Grand Park! Inspired by this man, the locals started trekking on this site and included it in the list of the best tourists attractions located in Bogor City.
It is true that trekking becomes the most popular activity in Mount Gede Pangrango. Despite the fact, tourists have other reasons for visiting the mountain. For example, it is to visit the most famous spot for sightseeing called the Edelweiss Field. The official name is Surya Kencana Square and it has become one of the best allures of the site. Aside from witnessing beautiful eternal flowers, tourists come to this spot to enjoy camping as well.
The next favorite spot to visit during trekking is called Mandalangi Valley, which was used by Soe Hok Gie to find inspiration for his poetry back then. Well, due to various attractions, it is recommended to come with a local guide or porter for a more comfortable trekking experience. Have no worries. The fee is negotiable.
Nearby Attractions
Mandalawangi Square
Cibeureum Waterfall
Blue Lake
How to Get There
Mount Gede Pangrango National Park is accessible from several regencies as mention above. Still, for those coming from Jakarta City, it takes about 3 hours and 43 minutes as the distance is 97.3 km. It can even be faster if they take Jagorawi Freeway. The first destination is Bogor City. Next, they can take another transportation service and head to Cisarua Sub-District. Lastly, they only need to reach South Tugu Village and start hiking.
Where to Stay
Salabintana Hotel
Tamie Hotel
Caravan Hotel
Mon Bel Hotel