Pembela Tanah Air Museum in Central Bogor
---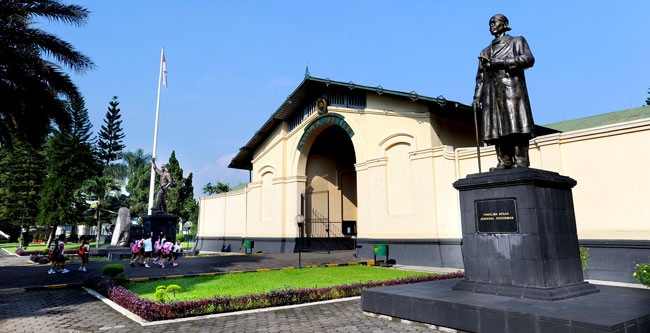 It is a little bit disappointing that several tourists are not aware of the Bogor City's potential when it comes to history. In order to take care of this problem, travelers should take their time and visit a famous museum called Pembela Tanah Air. Many people also call it Patriot Museum, actually. There is even another name, which is PETA Museum. So, where is the location? It resides in Pabaton Village and belongs to Central Bogor City. What tourists need to do is to reach Jendral Sudirman Street number 35, as the museum resides there.
The Nuance
The museum is located near to Bogor Palace, which is about 700 meters apart. It has a historical value as it has been there since 1745, for sure. In 1943, PETA army used this building as the base to fight Japan (the invader). This army was the seeds of today's Indonesian National's Army in fact! The building was inaugurated as a museum and tourist site in 1993 and it stores numerous historical collections related to the struggle of the locals during the colonial era. When it is about ornaments, in front of the museum, a majestic statue of General Sudirman resides beautifully!
Exploring Pembela Tanah Air Museum
It is, without a doubt, tourists visit Pembela Tanah Air Museum in order to see its collections and learn some history related to it. The first allure of the museum is the presence of 14 dioramas telling the story of PETA army's rebellion against the invader in order to achieve independence of Indonesia. Each of dioramas represents a distinct event of such struggle, so tourists can explore them all comfortably during the visit. In order to get thorough information, it is recommended to hire a local guide.
What is more? The next impressive collection of Pembela Tanah Air Museum is old weapons used in the confrontations back then. These once belonged to the Japanese Army, actually. The thing is that tourists are not able to touch these items, as they are kept inside the showcase. It is common sense as these weapons are quite valuable and hold a significant history. Another important rule for visitors is that they are not allowed to litter or cause too much noise inside!
Another popular activity that tourists often do in Pembela Tanah Air Museum is definitely photography. As for the information, the best background is the statue of General Sudirman located in front of the museum. Everyone should pay attention to the visiting hour, though. It is because the museum doesn't accept visitors in Saturday and Sunday.
Nearby Attractions
Kencana Park
Heulang Park
Kang Rudi's Fishing Pond
Perjuangan Museum
How to Get There
From Jakarta City, tourists may spend a trip about 53 minutes if they want to reach Pembela Tanah Air Museum. It is because the distance is 52.8 km, but it can be faster if they take Jagorawi Freeway. After arriving at Bogor City, they can simply head to Central Bogor Sub-District and visit Pabaton Village right away.
Where to Stay
Airy Hotel
Bogor Permai Cottage
Permata Hotel
Semeru Hotel
Zen Hotel

Latest News
In the Journal of Nature (a scientific journal of high repute), Mounce et al (2017) revealed, widely that Botanical Gardens around the world have collected at least 105,634 species or equivalent to 30% of all known plant diversity worldwide. However, it was also disclosed that there are an estimated 75% of species that have not been conserved in the tropics. Therefore, the Bogor Botanical Gardens which incidentally located in the tropics and are included in the oldest botanical gardens in Southeast Asia, must be able to answer the conservation challenges…
---
The Bogor Botanical Gardens are the only natural destination in the middle of Bogor city with 87 hectares area. The transportation support capacity is very adequate to access this tourist location. Easy toll access and public transportation access are widely available, which are added values ??for the existence of this tourist location. The existence of the Bogor Botanical Gardens itself cannot be separated from the historical value of the existence of the Dutch in the colonial period, where it is known that the Bogor Botanical Gardens was founded by the…
---
Ranca Upas is one of the tourist destinations in Bandung. Here you can camp while looking at the herd of deer and stunning scenery. Ranca Upas is a tourist spot located in Rancabali District, Bandung Regency, West Java. Ranca Upas is also known as campground, which is a favorite place for nature lovers. At Ranca Upas you can camp in the meadow on a hill of about 1700 meters above sea level. The view in the morning really amazes like being abroad. Moreover, the cool air makes the atmosphere more…
---
Last year, the waterfall or in local language called as 'curug', became a very popular tourist destination for tourists. Its presence in remote areas makes tourists more curious and feels challenged to reach it. Local waterfalls are also crowded because at that time Indonesian citizens were hit by boredom due to the Corona virus pandemic which forced them to cancel their vacation plans. West Java is not only famous for its beautiful beaches and mountains. The area, which is divided into 18 districts and nine cities, also has tourism potential…
---