Ciburial Waterfall in Babakan Madang Sub-District, Bogor City
---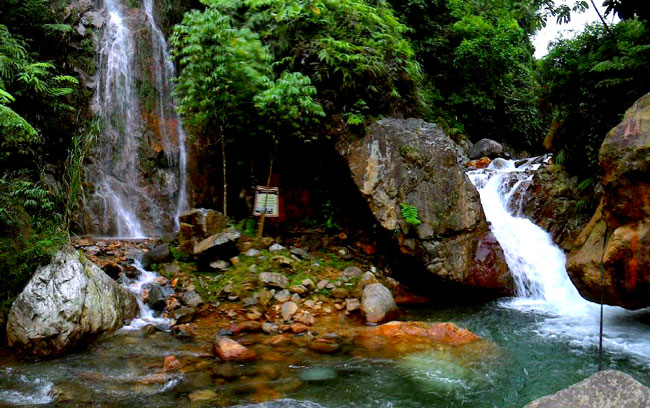 Babakan Madang Sub-District of Bogor City is known for its waterfalls, without a doubt. Here is the reference. The name is Ciburial and it resides in Karang Tengah Village. The beauty of the waterfall is one thing. But the fact that it becomes the water source for Leuwi Hejo Waterfall is indeed surprising. It is because Ciburial is located above such famous falls and offers three levels of water discharge! That means visitors are able to see three stunning waterfalls in one location during the visit later. No wonder, people keep coming to the site to enjoy exploration, swimming, photography, etc.
The Nuance
In terms of beauty, Ciburial Waterfall is definitely mesmerizing and unspoiled. The challenging and difficult route is nothing compared to such appearance for sure. What about the nuance? This Indonesia's site looks peaceful and soothing. Due to such serene atmosphere, as if tourists are spending a holiday in a private natural attraction. Visitors are mostly the locals or those who live in nearby villages. This explains why tourists may see some local kids playing in the water! What is more? Well, as mentioned before, there are three falls on the site offering a distinct height and characteristic.
Exploring Ciburial Waterfall
As mentioned before, the best allure of this site is the presence of 3 falls located in the same area. Thus, it gives a benefit to visitors as they have more than one attraction to explore. Each of them has a different level of water discharge and height as well. The strongest one is the first waterfall, as it features the swiftest water discharge. As for the others, they have weaker current but the water is clearer. Tourists can even drink the water directly due to such clarity!
Aside from sightseeing and exploration, Cibural Waterfall is suitable for playing water and taking a bath. Thanks to the presence of natural bath located between those three falls. In fact, the pond features refreshing water and gives a soothing sensation to the body. Somehow, spending some time in this pond helps everyone to get rid of boredom and stresses at once. The peaceful nuance of the site may help them to relax, too.
Another impressive allure of Ciburial Waterfall is the beautiful panorama, which is suitable for photography. It is as simple as standing in front of the falls and taking some selfies there. For those who come with friends or families, though, it is recommended to take a group photo instead of selfies.
Nearby Attractions
Ciherang Waterfall
Panjang Megamendung Waterfall
Cakrawardana Waterfall
Hejo Waterfall
Luewi Cepet
Barong Waterfall
How to Get There
The distance between Jakarta City and Ciburial Waterfall is 57.9 km, so it takes about 1 hour and 40 minutes to get to the site. Have no worries. The trip becomes faster if they take Jagorawi Freeway. What they need to do is to reach Bogor City first. Next, they should head to Babakan Madang Sub-District and reach Karang Tengah Village. Lastly, they can simply conduct trekking to the waterfall!
Where to Stay
BNR Hotel
Pakuan Hotel
Edensor Villa
Wargajaya 1 Hotel