Gunung Peyek Natural Bath in Parung Sub-District, Bogor City
---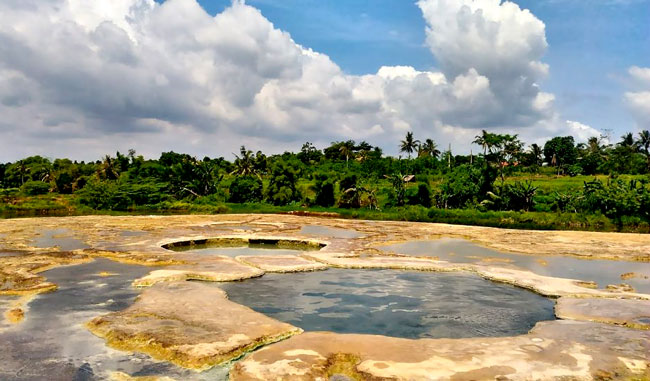 Not all people have heard an interesting place like Gunung Peyek Hot Spring of Bogor City. However, it gets a better popularity these days as visitors keep posting photos while relaxing at the natural Jacuzzi on site! The location is in Bojong Indah Village and it belongs to Parung Sub-District, actually. As the name suggests, it is the part of Peyek Mountain and has become the pride of the locals. Even though villagers are not quite enthusiastic in promoting this site, tourists have recognized it as one of the most recommended natural attractions to visit during holidays!
The Nuance
Once arriving at the site, tourists may find three holes that form natural Jacuzzis with warm water. Thanks to the presence of natural hot spring. People can get in these holes and take a bath there! What is more? The site is surrounded by beautiful panorama, as it is located on Peyek Mountain. Plus, the atmosphere is quite relaxing as it features cool air. Despite the smell of sulfur, everyone would feel satisfied with spending a nice vacation here. The only consideration is that they should come during a nice weather. Otherwise, the rain may ruin the mood for sure.
Exploring Gunung Peyek Natural Bath
The most common reason to visit Gunung Peyek Natural Bath is definitely to take a bath in the hot spring. Despite the small size, the natural gazebos can accommodate both adults and kids. Not only it helps tourists to relieve stresses, the warm water is quite beneficial to their health as well. Somehow, spending several minutes in this natural bath may relieve stiff muscles and get rid of several skin problems!
For first-timers, it seems daunting to get to the site, doesn't it? In order to deal with this issue, they can take advantage of a local guide's help. Some villagers even offer this service at a cheap price, so make sure to make use of it. The next important consideration is related to the weather, as tourists should only come during a good weather. The natural bath is located in an open field, after all, so it would be dangerous when raining due to the risk of struck by lightning.
The size of the natural Jacuzzis is small, so tourists must take a turn if they want to take a bath in it. In order to avoid queuing, everyone should consider visiting the site only in working days instead of in weekends or holidays. It makes sense since fewer people are seen on site during busy days, no?
Nearby Attractions
Sayaga Mount Kapur
Sapadia Outbound
Calincing Hill
How to Get There
From Jakarta City, it takes about 1 hour and 42 minutes to get to Gunung Peyek Natural Bath, as the distance is 73.7 km. It even involves a short trekking to get to the hot spring. First, tourists need to get to Bogor City and head to Parung Sub-District afterward. The next thing to do is to reach Bojong Indah Village and get to the site right away. The whole trip becomes faster if they take Jagorawi Freeway, though.
Where to Stay
Parung Hotel
Mak One Hotel
Sawangan Hotel