Leuwi Lieuk Waterfall in Sukamakmur Sub-District, Bogor City
---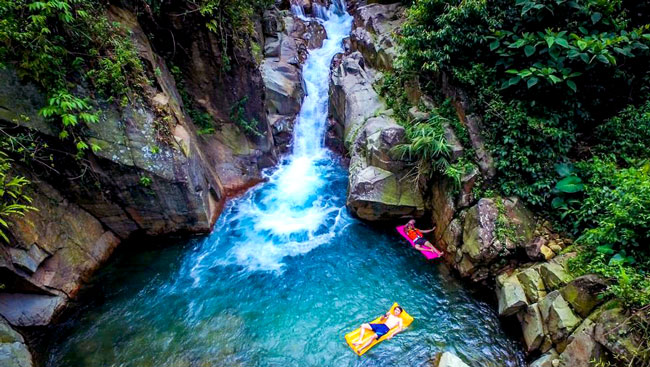 For the next holiday in Indonesia, tourists must consider enjoying an adventure in nature. It can be as simple as visiting a beautiful waterfall like Leuwi Lieuk in Bogor City. The location is in Pabuaran Village and it belongs to Sukamakmur Sub-District, for the information. One thing that makes it special is the nuance, which is similar to that of Pangandaran's Grand Canyon. No wonder, it is suitable to enjoy relaxation, photography, and family recreation. The peaceful nuance and fresh air become a perfect combination, without a doubt. Not to mention the nature looks beautiful!
The Nuance
Leuwi Lieuk Waterfall is surrounded by pristine environment and lush plants, creating a comfy nuance to the site. In terms of size, it is considered moderate and features strong water discharge. The most noticeable feature is definitely the crystal blue natural pond located beneath it. The pond is surrounded by rocky cliffs and it looks like a private pool! Even the pond is not deep, so everyone is able to swim and play water safely there. Also, the site is quite secluded so it provides a peaceful atmosphere for relaxation.
Exploring Leuwi Lieuk Waterfall
In terms of location, Leuwi Lieuk Waterfall resides near to other famous falls including Ceupeut and Hejo. Thus, tourists are able to visit three different waterfalls without spending too much time and effort. The next good news is that the route is considered easy and accessible, which is suitable for beginners who never conduct trekking. What they need is a good stamina to climb the hill and reach the waterfall for about 40 minutes Pabuaran Village. It is also recommended to carry bottled water and some snacks to replenish tiredness during trekking.
Once arriving at the site, tourists can find the waterfall right away. The size is not big, but looks stunning due to the strong water discharge. Even the water looks crystal clear without any moss in it. No wonder, tourists won't be able to decline the urge of getting in the natural pond and swim in it. Some tourists even climb the top of the waterfall and jump to the pond freely!
Here is the thing. Tourists should prepare some money to pay the entrance fee and parking ticket. Despite the expense, visitors can take advantage of numerous facilities provided by the locals including a deposit center, wide parking area, and food vendors. For those who carry foods or bottled water, though, they must take care of the trash and avoid littering at all cost.
Nearby Attractions
Barong Waterfall
Hordeng Waterfall
Agung Garungnggang Cave
Leuwi Cibaliung Waterfall
Ciherang Waterfall
How to Get There
For those coming from Jakarta City, they can take any local transportation service and head to Bogor City right away. The next thing to do is to get to Sukamakmur Sub-District and reach Pabuaran Village before trekking to the waterfall. Well, the whole trip may take around 1 hour and 37 minutes as the distance is 56.5 km, actually. As for the best route, it is Jagorawi Freeway.
Where to Stay
Hejo Hotel
Wargajaya Hotel 1
BNR Hotel
Ibis Styles Hotel