Cihurang Waterfall in Pamijahan Sub-District, Bogor City
---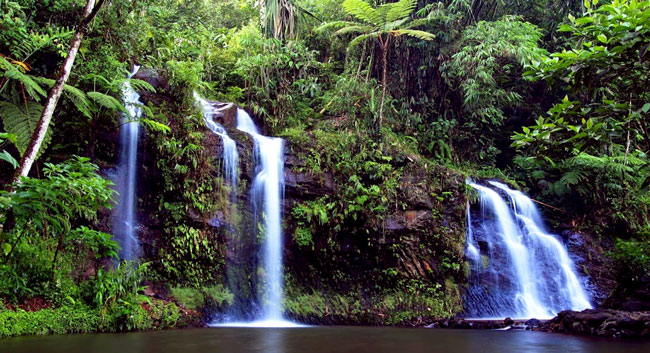 There is an efficient way to eradicate boredom and stresses, which is to conduct a family recreation in natural attractions. In this case, visiting a beautiful waterfall like Cihurang is a good decision especially those who live or visit Bogor City. In terms of location, this stunning waterfall is located in Gunung Picung Village and belongs to Pamijahan Sub-District. Also, it is the part of Halimun Mountain National Park (TNGHS). The good thing is that the waterfall is located near to the main road, so tourists don't need to spend much time for trekking.
The Nuance
Due to the nice location, which resides near to the parking area, tourists can get to Cihurang Waterfall in an easy manner. Plus, the route landscape is flat so it doesn't tire tourists. From the gate of TNGHS, the distance is only 1 km in fact. When it comes to nuance, the waterfall offers a serene and pristine environment. The size is tall and it features a strong water discharge, as well. Aside from the main waterfall, there is small one next to it featuring a nice natural pond for tourists to take a bath. Another impressive feature is that there is a camping ground located near to the site.
Exploring Cihurang Waterfall
Many people take advantage of Cihurang Waterfall as a practice site before they visit other waterfalls, located in a further location with a more challenging route. Despite the fact, that doesn't mean Cihurang is less beautiful than those. The next reason to visit the site is definitely to enjoy the panorama. Featuring two waterfalls within an area, the site never fails to amuse visitors without a doubt. Each of the falls has a distinct water discharge and the depth of natural pond in fact.
For those who want to enjoy a peaceful bathing, they need to choose the smaller waterfall. It is because the natural pond is safer and more comfortable either for swimming or taking a bath. Even a water slide has been built there to accommodate kids. What about those who don't want to play water? Well, they should be grateful for the presence of traditional gazebos located near to the waterfall. This facility becomes a perfect spot to enjoy relaxation and eat lunch together with families, surrounded by beautiful nature.
The next allure of Cihurang Waterfall is the presence of camping ground, located near to the site. That means tourists are allowed to build a tent and spend a night there (freely). What they need to consider is only the weather. Long story short, it is better not to come during the rainy season.
Nearby Attractions
Cigamea Waterfall
Ngumpet Waterfall
Cadas Ngampar Waterfall
How to Get There
From Jakarta City, a trip to Cihurang Waterfall takes approximately 2 hours and 7 minutes as the distance is 80.5 km. In order to get there faster, it is recommended to take Jagorawi Freeway though. The first destination is Bogor City. Next, tourists need to reach Pamijahan Sub-District and get to Gunung Picung Village to park the vehicle. Lastly, it takes only several minutes of walking to reach the waterfall.
Where to Stay
De Salak Homestay
Pupua Farm Villa
Seruni Hotel
Diantie Villa