Cikawah Waterfall in Pamijahan Sub-District, Bogor City
---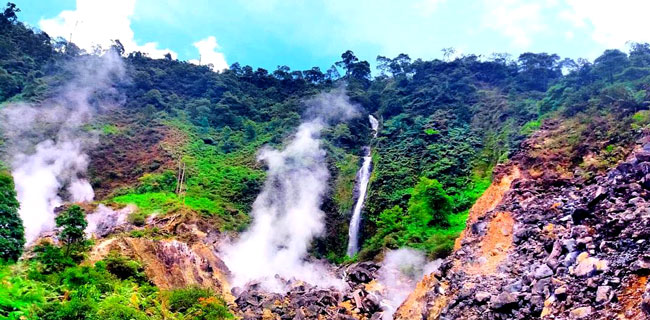 No one would regret visiting Bogor City regardless of their location. At least, they are able to spend a good time in numerous beautiful waterfalls that reside in that region. As for the example, there is Cikawah Waterfall in Ciasmara Village (Pamijahan Sub-District). "Kawah" means a crater, actually. As the name suggests, the waterfall resides near to a volcano and features hot spring as well. No wonder, the landscape is more attractive as compared to other waterfalls and it is suitable for various activities like trekking, photography, taking a bath, sightseeing, etc.
The Nuance
In terms of nuance, Cikawah Waterfall looks different than others due to the presence of natural hot spring on the site. No wonder, tourists may see the steam once they arrive at the site. When it comes to the landscape, the waterfall features two levels which look so majestic. The most interesting feature perhaps is the presence of a small pond containing warm sulfur which is safe for bathing. One thing, do not wrongly choose the pond since the heat level differs greatly. In order to avoid problems, it is better to come with a local guide.
Exploring Cikawah Waterfall
Due to unique landscape, most visitors enjoy photography when reaching the site. It is because they won't find other locations that offer such nuance. From Ciasmara Village, the trip starts. Tourists may notice the smell of sulfur once they spend 30 minutes of trekking, in fact. Well, a trekking to get to Cikawah takes about 1-2 hours so everyone should come with a good stamina. During the trip, they may find two streams of a river as well. The first one is clear and refreshing while another has been contaminated with sulfur.
Once getting near to Cikawah Waterfall, tourists may see a cloud of steam or smoke coming from the crater! In the background, there is the stunning waterfall which looks serene and beautiful. As mentioned before, it is quite recommended to come with a tour guide as the sulfur level turns too high sometimes (which is considered dangerous). With a guidance of an experienced local, therefore, everyone can explore and get near to the site in a safe manner.
It is true that Cikawah Waterfall is unique and alluring. The only challenge is the effort to get to the site, which involves a short trekking and a review regarding the sulfur level (safety aspect) of the crater. Despite the difficulty, the waterfall never loses visitors! Instead, it retains a regular number of visitors daily that can reach up to 100 people!
Nearby Attractions
Saderi Waterfall
Cipanas Karang Endah
Seribu Waterfall
Glaweran Waterfall
How to Get There
From Jakarta City, tourists' first destination is Bogor City. Next, they should reach Pamijahan Sub-District and head to Ciasmara Village. Once parking the vehicle, they can directly reach the waterfall by conducting a short trekking to the site. The whole trip may take around 2 hours and 45 minutes, as the distance is 97.3 km actually. It can even be faster if tourists take Jagorawi Freeway.
Where to Stay
Pupua Farm Villa
Javanna Inn
Bersama Hotel