Bogor Botanical Gardens in Central Bogor Sub-District, West Java Province
---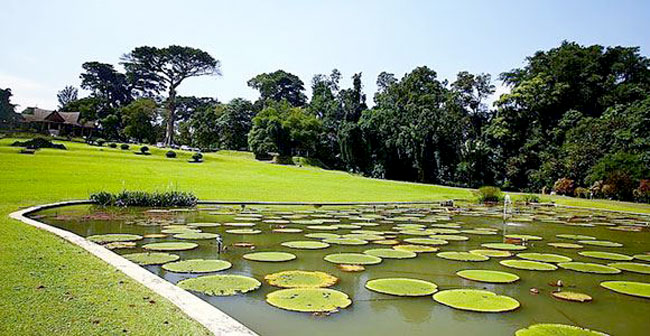 For those of you who are saturated in urban atmosphere does not hurt to visit Bogor Botanical Gardens (Indonesian: Kebun Raya Bogor). It becomes the most popular tourist site in Bogor City. The location is in Paledang Village and it belongs to Central Bogor Sub-District. In terms of popularity, it is indeed the same as Puncak. This Indonesia's park has become a national research center and conservation for generations. Not to mention it becomes a wonderful vacation spot for those who want to spend a family recreation and relaxation. On top of that, visitors may find various attractions in this grandiose park!
The Nuance
In terms of size, Bogor Botanical Gardens is indeed vast. It has the total area of 87 hectares and has become the home of 15,000 plants! No wonder, it attracts tons of visitors daily including the locals and outsiders. Even foreigners are also interested to visit it during a long holiday. The most crowded time is definitely on the weekend when local families come to the site with their kids. Not only the park is famous for its grandiose size and collections, it also has an interesting history for tourists to learn during the visit!
Exploring Bogor Botanical Gardens
First, it is better to learn a little bit history of Bogor Botanical Gardens. In the past, it was part of an artificial forest called Samida (during the reign of King Siliwangi of Sunda Kingdom). That means the park has been there since 1474! It is a fact, as the information is written in Batutulis Inscription. At the time, the artificial forest was built in order to preserve rare woods seeds and became the border between Bogor and Cianjur. During the reign of the Dutch (under the governance of Van Der Capellen, a vacation home was built in that area.
The good thing is that tourists can find numerous attractions in Bogor Botanical Gardens. That means they may spend much time in order to visit them all. One of the most recommended sites is called Gunting Lake. The location is near to Lady Raffles Monument, so it is quite noticeable. Despite the small size, the lake looks astonishing and becomes a nice place to collect some beautiful photos. It is even said a Dutch lady's ghost is living in this lake. Some people also said that a giant mystical snake also lives there!
Another favorite spot is where the Tangan Tuhan Statue resides. The name has the meaning of the hand of God, actually. As tourists may expect, it is a giant statue of hand carrying a man. The creator is a Frenchman named Carl Milles and he made the statue in 1963. Many other attractions are available, though, so make sure to come with a tour guide to explore them all.
Nearby Attractions
Bogor Palace
Meksiko Park
Kirti Museum
Zoology Museum
Kualinan Park
National Museum of Indonesian Natural History
How to Get There
From the capital of Indonesia (Jakarta City), it takes about 49 minutes to get to Bogor Botanical Gardens as the distance is 53.9 km. Have no worries. The trip would be faster if tourists take Jagorawi Freeway and use the best vehicle to get there.
Where to Stay
Favehotel Padjajaran
Permata Hotel
Royal Amaroosa Hotel
Amaris Hotel
Sahira Butik Hotel